April 12, 2021 by fcostin
As if the new previews for what is coming up for Summoner Wars by Plaid Hat Games could get any cooler. If you'd have told me that there would be Polar Dwarves joining the fray - that'd bring up enough excitement. But it is not just Polar Dwarves, as these rough riders come axe-wielding and mounted upon the back of polar bears. Calling in the Bear Cavalry!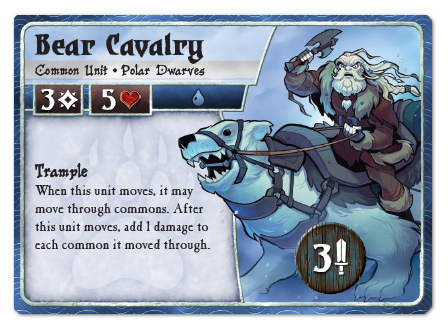 Summoner Wars // Plaid Hat Games
The Bear Cavalry are a force to not be reckoned with. They have the ability to move through commons, so they would be perfect to smash through any defence that your opponent has lined up - dealing 1 damage to every common it touches. You will certainly not want to be on the opposing side when they call in the Bear Calvary.
Summoner Wars // Plaid Hat Games
I love a support card! I always choose a support role regardless of what I am doing or playing because let's face it - Frodo never would have got very far if it wasn't for Sam! Anyway. The Ice Smith is perfect for helping your common characters gain more of an edge, by using his Frost Axe ability to charge up melee damage. As he is of low cost to put out onto the table, he is an easy card to put out into battle at any time.
Plaid Hat Games are previewing so many cards recently, and it is great to see more diversity come into play.
What do you think of the new previews for Summoner Wars? 
Related Games
Related Companies
Related Categories